Please read the whole page so you can avoid any problems in making the appointment.
If you are a University College, undeclared, currently enrolled student:
Coronavirus Reminder: University College Academic Advising will continue advising during Spring 2020 using various remote methods. To schedule an appointment with your advisor for a video session or phone call, follow the instructions below. Please plan to keep this appointment time and look for further instruction from your academic advisor in your App State email account.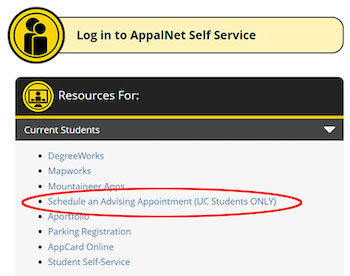 Please go through AppalNet to schedule an appointment with your University College advisor.
Go to AppalNet and before logging in, click on the link to Schedule an Advising Appointment (see image).
When you get to the AdvisorTrac login screen, type in your ASU Username (your email without the @appstate.edu) and your normal ASU password.
If you have problems logging in, call 828-262-2167 for help in making an appointment.
You will receive an email reminder about your appointment. Plan to be available during your scheduled time, and watch your App State email account for further instructions.
If you have declared your major
Please contact your academic department, as each department schedules advising appointments differently.
If you are a prospective student
You cannot schedule an appointment online. We would like for you to use the available resources on this site to find the information you need. If you still have questions, please contact us to let us know how we can help you.
If you are unable to meet for your appointment
Please log into AdvisorTrac again to re-schedule or call 828-262-2167. This will let your advisor know you are not able to keep your appointment.