Advising
When Do I Register?
See the Early Registration Access page on the Registrar's website. Note: Registration is based on your earned or completed hours. Find this number at the top of your DegreeWorks page beside "Cumulative Earned Hours."
Who Is My Advisor?
University College students: Your advisor is assigned after you attend New Student Orientation and is listed at the top of your DegreeWorks worksheet page (see image below). Your advisor may change at the beginning of the semester, so please check DegreeWorks once the drop/add period is over.
Declared students: Your advisor will change after you officially declare your major. If no advisor is listed in DegreeWorks, please contact your academic department.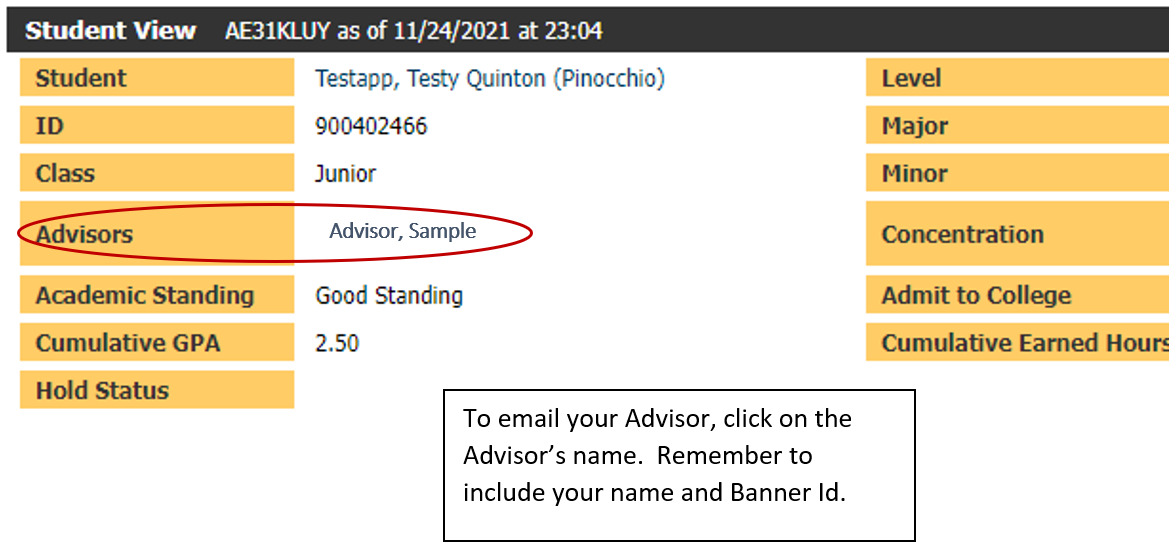 How Do I Make An Appointment?
How Do I Prepare For My Advising Appointment?
Required or Voluntary?
Required Advising
A required advisee is a student who either:
Has less than 30 earned hours or more than 60 earned hours and has not OFFICIALLY declared their major
OR is an undeclared first semester student
OR has under a 2.0 cumulative GPA
A required advisee must meet with their assigned advisor BEFORE they can register for next semester.
Once they meet with their advisor, they will receive a PIN code (i.e., ALTernate PIN) that will allow them to access the registration system.
Voluntary Advising
A voluntary advisee is any student who has more than 30 but less than 60 earned hours and has not officially declared their major. These students are NOT required to meet with their advisor prior to registering for the next semester and will NOT have a PIN code.
Required Science Advising
Some departments require their undeclared majors to receive additional advising within their department. Those departments are: Chemistry and Fermentation Sciences, Geological and Environmental Sciences, and Physics and Astronomy. If you intend to pursue one of these majors, you will need to be advised by your University College Advisor AND your intended department BEFORE you can register for next semester. Learn more about Required Science Advising.